Father's Day T-Shirt • Pearl City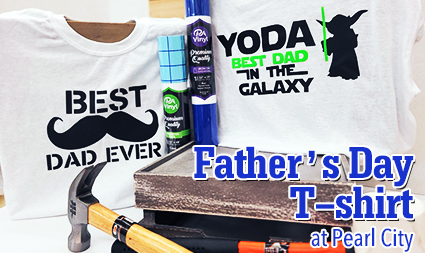 PIN IT
Create a T-shirt for your Dad

Friday, June 18, 2021 • 2:00pm-3:00pm • $45

Click here to visit Eventbrite.com to sign up.
Upcoming Workshops:
Saturday, June 19, 2021 • 2:00pm-3:00pm • $45

About this event
Is your dad the best dad ever? Is he the best dad in the galaxy? If so, join us as we create a custom shirt to celebrate him. Choose from one of two designs that we are offering:
1. Mustache-Best Dad Ever
2. Yoda Best Dad in the Galaxy
Once you are signed up, call the store 24 hours in advance to let us know which design you would like and the size of the white shirt you will be needing. We will prepare your design prior to class. During class you will learn with Jena how to "weed" iron-on vinyl and learn how to use the Cricut Easy Press II. As a parting gift you will go home with a white roll of iron on vinyl as well as a roll transfer tape.
Come and create with us- Father's Day is just around the corner.
Ages 6 and up welcome (parents please come and help!)
Face mask must be worn at all times.
Pearl City phone # (808)455-1909