Register Today for Hardware Science Winter Camp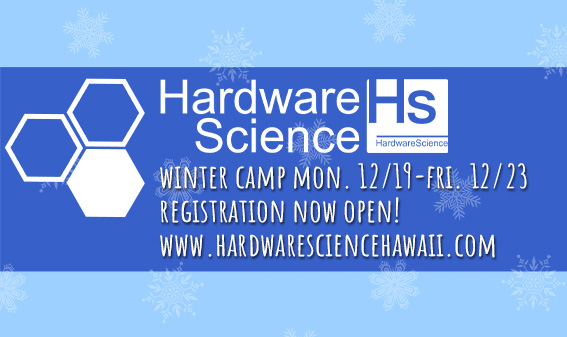 PIN IT
Hardware Science Winter Camp Registration is Now Open!
Registration for CONTINENTAL US participants closes 12/2.
Registration for HAWAII participants closes 12/9.

Purchase your kit online at www.hardwaresciencehawaii.com and join us virtually learn to make projects using everyday hardware store items.
Single Kit $100
Sibling kit (comes with 2 of each project) $175

December 19 - 23, 2022, 1:00PM - 2:00PM, HST
Hardware Science is back with another 5-day online camp! Below is a list of projects that your Junior Hardware Scientists will be constructing:
Monday - Desktop Washer Toss
Tuesday - Rubber Band Car
Wednesday - Santa Automata
Thursday - Tumble Toy
Friday - Wooden Slide Puzzle
Zoom links will be emailed to the address used during checkout. Recorded sessions and instructional video will be sent each day.
Tools needed from home:
Scissors
Hot Glue Gun
Ruler
Pen/Marker/Pencil
Phillips Screwdriver
Hammer
Masking Tape
Tools included in kit:
Double-sided Tape
Speed Square
Nails
Sandpaper