Paint and Resin Coasters at Hilo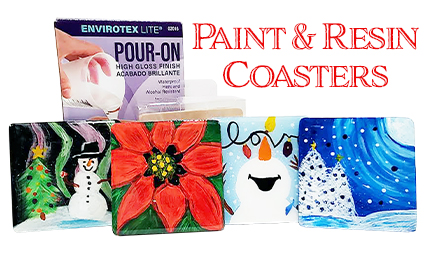 PIN IT
Let's paint some coaster and pour some resin on it!
Wednesday, November 8, 2023 • 10:00am-12:00pm • $80

CLICK HERE to visit Eventbrite.com to sign up.
Upcoming Events:
Thursday, November 16, 2023 • 10:00am-12:00pm • $80

About this event
********* Not recommended for pregnant women**************
Ready to resin? Looking for a new project? Joy will share with you designs you can paint on wood coasters, or you are free to design your own. Once you have completed painting your coasters she will teach you how to measure, mix and pour resin to provide a clear coat to the surface.
Supplies include:
16oz Resin
4 wood coasters
Your finished work will require a 24 hour drying period and can be collected after this time.
Limit of only 4 students per class. Please wear old clothes- we like to get messy. If you have long hair please wear it up.
*Not recommended for pregnant women or children under the age of 18