Aquamarine Earrings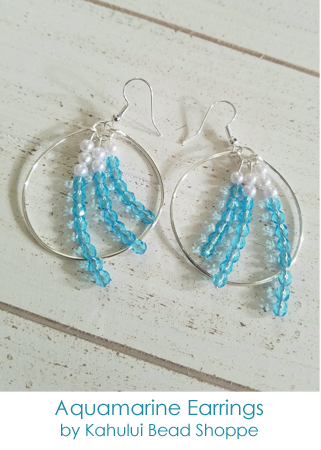 Click here to download project sheet.
MATERIALS
SUPPLIES
• Aquamarine Fire-Polish Beads • 30098370
• 4mm White Glass Pearls • 30197467
• Earring Hooks • 30122964
• Jump Rings • 30095611
• Headpins • 30095652
• 18 gauge Silver Wire • 30184453
• Tea Light • 30184453
TOOLS
• Jewelry Tool Set • 30103608
DIRECTIONS
1. Unravel the 16 gauge wire and wrap it around the tea light to form a loop base.
2. Use the side cutter from the tool set and cut where the wires overlap.
3. Use the flat plier to form right angles (pointing towards you) on both ends of wire.
4. Pinch one end with the round nose plier and form and eye-pin shape.
5. Bend the headpins on the side of the tealight to give them a slight curved bend.
6. Strand on the Fire-Polish beads and pearls onto the headpins. Make 6 total.
7. Pattern: Headpin 1 = 8 beads + 3 Pearls, Headpin 2 = 7 Beads + 2 Pearls, Headpin 3 = 6 Beads + 1 pearl.
8. Use the flat wire plier again to form right angles at the top of the headpin.
9. Trim off excess wire on the two shorter stands to match the top of longest strand.
10. Create the eye-pin shape at the end for all six strands by using the round nose plier.
11. Open the jump ring using the needle nose and bent nose pliers.
12. Loop this jump ring through one of the eye-pins to the base.
13. Attach the headpin strands on the next (longest to shortest).
14. Attach the other eye-pin end and close the jump ring with the bent nose and needle nose pliers.
15. Attach on earring hook to the jump ring.